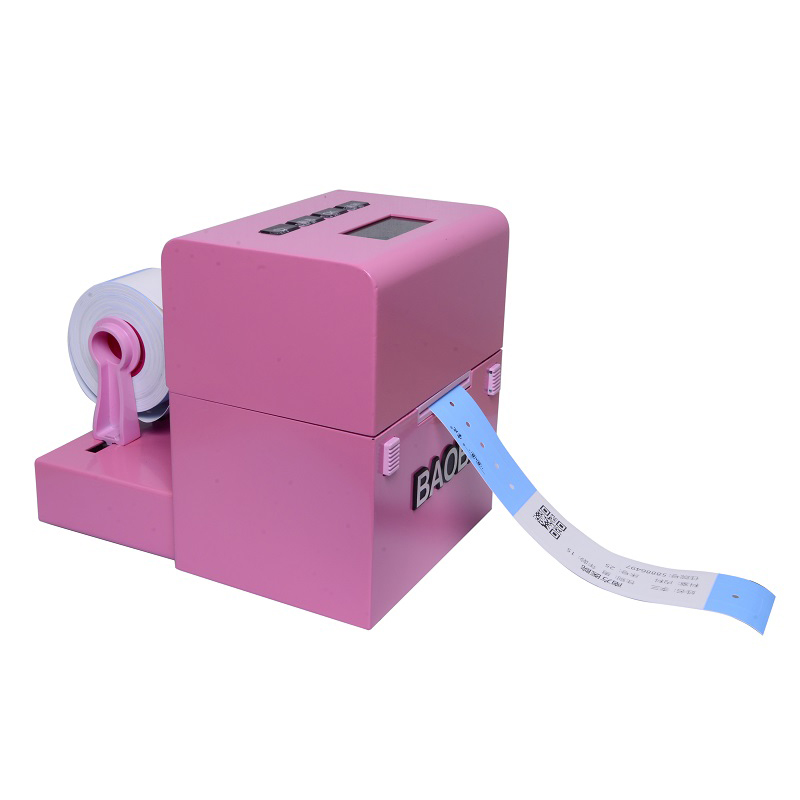 BAOBI Wristband Printer BB720A
BB720A wristband printer has compact body and extremely compact shape design; supports intelligent connection, easy operation, and meets the needs of hospital applications; supports all kinds of high-precision one-dimensional code and two-dimensional code printing, specially designed for wristband printing applications.
Solutions

Product details
Specification Parameters
Product News
BAOBI Wristband Printer BB720A technical specifications
* The printer specifications described in this paper are based on the printer test using the original label wristband of Baobiwanxiang, for users'reference only. The test results will vary depending on the actual application settings or the use of non-Baobiwanxiang brand consumables. Baobiwanxiang has always advocated testing applications.
I. Standard Characteristics
* Printing method: thermal transfer or thermal sensitivity
* Fast and Simple Carbon Belt Loading Design
* Label Volume Placement and Replacement Simple and Fast
* Configuration of LCD screen to display printing status and quantity in real time
* Support printing of text in different languages
* Standard paper tearing mode
* Special Print Head Energy Control

II. Printer Specifications
Printing resolution:
203dpi/8 points per millimeter
Print width:
2 inches / 54mm maximum
Applicable to different styles of Baobi thermal printing wristband and Baobi thermal transfer printing Wristband
Printing speed
Printing speed is optional.
Standard printing speed: 2.5 inches/s (60 mm/s) (5 seconds per wristband)
Maximum printing speed: 5 IPS (120 mm/s)
Medium properties
Maximum Wristband/Label Width:
0.39 inches/10 mm to 2 inches/54 mm
Maximum dielectric roll size:
5 inches/127 mm (outer diameter)
Dielectric thickness: 0.003 inches/0.08 mm to 0.0075 inches/0.19 mm
Medium Type: Thermosensitive/Thermal Transfer Media
Applicable Carbon Strip Specification
Axis: 0.5 inches
Axis Length: 56mm
Carbon bandwidth: less than 54mm
The outer diameter of carbon strip coil is less than 36 mm (the length of carbon strip is about 90 m).

III. Operational parameters
Environmental parameters
* Working temperature: 40 F/4.4 C to 104F/40 C
* Storage temperature: -40 F/-40 C to 140 F/80 C
* Working humidity: 20% - 85% without condensation
* Storage humidity: 5% - 85% without condensation
Electrical parameters
External automatic range power supply (in accordance with PFC) input: 100-240VAC, 50-60Hz (60Watts)
Physical specification
* Width: 148 mm
* Height: 175 mm
* Length: 203 mm
* Weight: 2.5 kg (net weight)

IV. Working parameters
Software
* BAOBI Printer Driver Printer Driver Printer Driver
* BBDesigner BAOBI Printing Design Software
program
* BPL+ (BAOBI Printer Interface File)
network connections
* USB 2.0
* Wireless 802.11 b/g/n (* Optional)
Font/Graphics
* Support user-defined fonts and graphics, including custom logos, etc.
* Fonts and barcodes can be rotated as needed: 90 degrees, 180 degrees, 270 degrees.
Barcode support
* One-dimensional barcode: Code 39, Code 128A, B&C, UCC/EAN-128, Code 93, Codabar, Interleaved 2 of 5, UPC-A, UPC-E, UPC-A with 2 and 5 addons, UPC-E with 2 and 5 addons, EAN 13, EAN 13 with 2 and 5 addons, EAN 8 with 2 and 5 addons, EAN 8 with 2 and 5 addons, Postnet, Standard 2 of 5, Industrial 2 of 5, GMARS, MSI, Codabar and GS Barerly, Post 11, China
* Two-dimensional barcode: PDF-417, Maxicode, Data Matrix, QR code, Aztec

V. Random Accessories
* Warranty Card
* USB cable
* Power adapter
* Power cord
Baobiwanxiang

Leading provider of the Internet of Things industry in China,providing personnel and items identification technology, products and total solutions.It's a high-tech enterprise integrating R&D, production, sales and technical services.Totally obtain 217 patents.

Service Hotline

400-880-6887

400-880-6997

Consult Now

Hot Selling Products