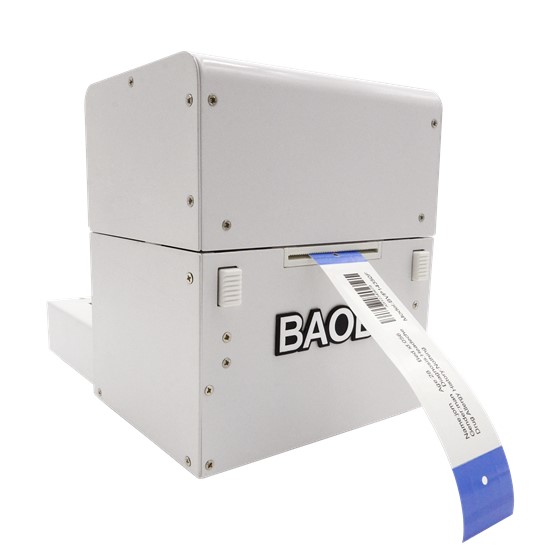 Barcode Wristband Printer BB720A
Product details
Specification Parameters
Product News
* Designed for wristband printing applications
* Support smart connection to meet the needs of hospital applications
* Support all kinds of high-precision 1D code and 2D code printing
*Support thermal transfer or thermal printing
* Fast and easy ribbon loading design
* Label roll placement and replacement is quick and easy
* Configure the LCD screen to instantly display the print status and number of prints
* Support printing of different language texts
* Standard tear paper mode
*Special print head energy control
BAOBIWANXIANG Wristband Printer BB720A
SPECIFICATION PARAMETER
* The printer specifications described based on printer testing are using the our own wristbands ,for the user's reference only.Test results depend on the actual application settings or the use of other kind consumables. BAOBIWANXIANG has always advocated testing to verify the application.
I. Standard Features:
Printing mode: Thermal printing,Thermal transfer printing
Three setting modes: Print and Write RFID,Print Only, Write RFID only
Fast and easy ribbon loading design
Simple and convenient for label replacement
Equipped with LCD screen, show the print statusand print quantity in real time.
Support text printing in different languages
Printing path with open buttons makes it easier to fix paper jam.
Standard paper tearing mode
Unique energy control of printer head
II. Printer specifications
Printer Resolution:203dpi / 8 dots per mm
Print width:Maximum 2"/ 54mm
Applicable to different styles of Baobi thermal
wristband and Baobi thermal transfer wristband
Printing speed:Print speed is selectable.
Standard speed: 2.5 "/ s (60 mm / sec)(5 seconds per wristband)
Maximum speed: 5 ips (120mm/s)
III. Medium Characteristics
Maximum Wristband/Label Width:0.39"/10 mm to 2" / 54 mm
Maximum medium roll size:5 "/ 127 mm (external diameter)
Medium thickness:0.003" / 0.08 mm to 0.0075" / 0.19 mm
Medium type:Thermal/Thermal transfer medium
Applicable ribbon specifications
Shaft core: 0.5 "
Shaft length: 56mm
Ribbon width: within 54mm
Ribbon roll external diameter:
36mm or less (ribbon length 90m)
IV. Operating Characteristic
Environmental
Operating temperature:40 F/4.4 c to 104F/40 C
Storage temperature:-40 F/-40 C to 140 F/80C
Operating humidity:20%-85% non-condensing
Storage humidity:5%-85% non-condensing
Electrical
Universal power supply(PFC compliant)
100-240VAC, 50-60Hz (60Watts) External
Power Supply
Physical specification
Width: 148 mm
Height: 175 mm
Length: 203 mm
Weight(N.W): 2.5kg
V. Working parameters
Software
* BAOBI Printer Driver
*BAOBI BBDesigner
programming
* BPL+ (BAOBI Printer Interface File)
Networking / Connectivity
* USB 2.0
* Wireless 802.11 b/g/n (Optional)
Fond and Graphics
* Support user-defined fonts and graphics, including custom logo Font and Barcode rotation:90,180,270 degrees
Barcode
* 1D barcode:
Code 39, Code 128A, B&C, UCC/EAN-128,Code 93, Codabar, Interleaved 2 of 5, UPC-A,UPC-E, UPC-A with 2 and 5 add on, UPC-E
With 2 and 5 add on, EAN 13, EAN 8, EAN 13 with 2 and 5 add on, EAN 8 with 2 and 5 add on, Postnet, Standard 2 of 5, Industrial 2 of 5,LOGMARS, MSI, Codabar and GS1 DataBar(formerly RSS), Code 11, China Post
* 2D barcode:
PDF-417, Maxicode, DataMatrix, QR code, Aztec
VI. Accessories
* Warranty Card
* USB
* Port Cable
* Power Adaptor
* Power Cord
BAOBIWANXIANG

Leading provider of the Internet of Things industry in China,providing personnel and items identification technology, products and total solutions.It's a high-tech enterprise integrating R&D, production, sales and technical services.Totally obtain 217 patents.

Service Hotline

Consult Now

Hot Selling Products