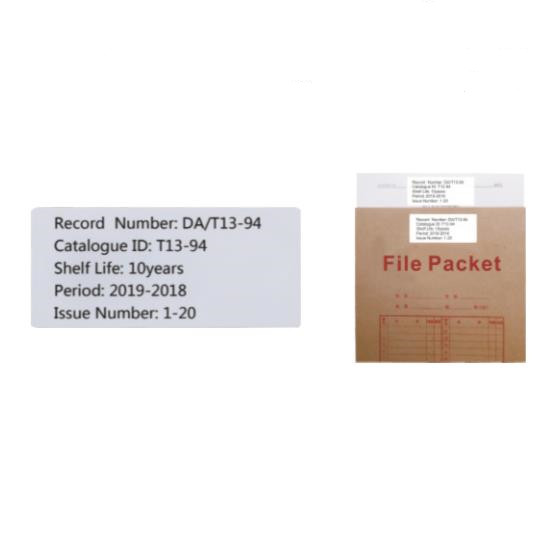 Product details
Specification Parameters
Product News
RFID File Label BLA2200 is a high-performance passive electronic label support ISO18000-6C (EPCglobal C1G2) standard,covers the frequency range of 840MHz to 960MHz. The chip contains an automatic tuning ability possess excellent environmental adaptability.(tuning ability makes the performance of the tag more stable in common environments) .
RFID File Label BLA2200 has high efficiency of reading and writing performance, and contains anti-collision ability.Support printing,widely used in file management, asset management, item management identification, etc.
RFID File Label BLA2200 can be applied to file identification management. By printing the unique identification number of each archive file of the RFID electronic label, it is possible to automate and efficiently collect the archive file data.This provide intelligent management methods to support for the collection, management, preservation and utilization of the archive business process.
Features
Support EPCglobal C1G2 and ISO/IEC 18000-6C protocols
Soft and printable
Great anti-interference ability, providing higher reading reliability
Excellent reading and writing sensitivity
RFID File Label BLA2200 Product Specification
Model:BLA2201-7633-UHF13-01-7212
Antenna Size: 72mm*12mm
I.Packing Information
Surface Material : Copper Printing Paper
Label Size:76*33mm
II.Characteristic
Chip MonzaR6-P
Work Frequency 840MHz-960MHz
Protocols ISO/IEC 18000-6C
Capacity User Memory 64bits
Memory Readable / Writable
Reading and Writing Life time 10 0000 times
Chip Lifetime ≥10Yeas
Sensitivity: -18 dbm
Working Environment -20℃ to 70℃
Working Humidity 20% to 80%
Storage Environment -5℃ to 40℃
Data Validity Period 100 000 times, data can be stored for 50 years
Product Shelf Life Can be stored for one year under 5 ℃ to 40 ℃, in shade and not sealed condition
BAOBIWANXIANG

Leading provider of the Internet of Things industry in China,providing personnel and items identification technology, products and total solutions.It's a high-tech enterprise integrating R&D, production, sales and technical services.Totally obtain 217 patents.

Service Hotline

Consult Now

Hot Selling Products