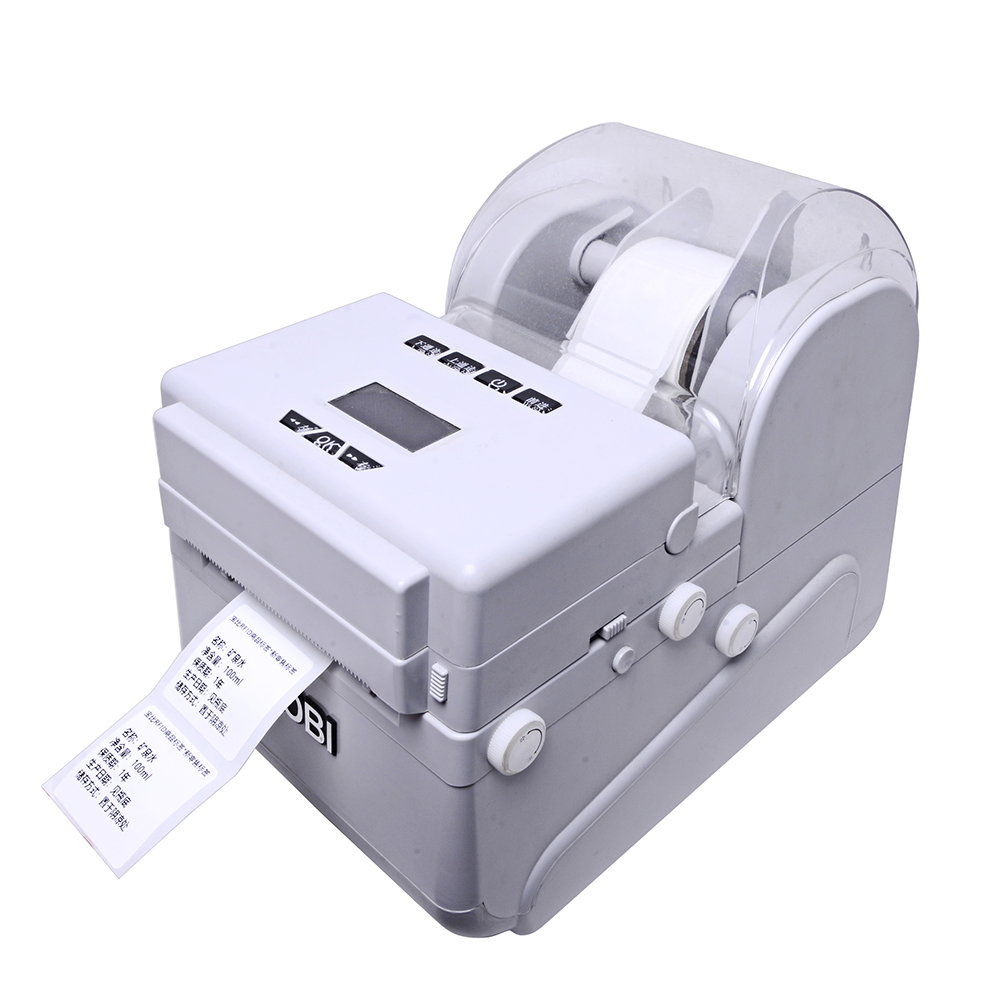 RFID Label Printer BB707S UHF
Product details
Specification Parameters
Product News
Print data and write data simultaneously
Printing method: Direct Thermal Printing & Thermal Transfer Printing
Three setting modes: Print Only, Write RFID Only, Print and Write RFID
Special prompt for RFID writing data success or not
Two Rolls loading for labels or wristbands with switch button to select printing channel
Providing professional barcode printing as well as the solutions of Internet of Things technology
Applications
Public Transportation, Access Management, Electronic Toll Collection, Car Parking, School and Campus Cards, Employee Cards, Internet Cafes, Loyalty, Event Ticketing, Voucher and Coupons, Product Authentication, Electronic Shelf Labels
FEATURES
Direct thermal printing and thermal transfer printing with maximum width of 108mm. 300dpi resolution enables it to print all sorts of linear barcodes, 2D barcodes and various graphics with high precision.
Three setting modes: Print Only, write RFID Only, Print and Write RFID. Special prompt for RFID writing data success or not. Supports the EPC Global UHF Class 1 Gen 2/ISO 18000-6C protocols.
Two Rolls loading for labels or wristbands with switch button to select printing channel. Patented design, printing path with open buttons makes it easier to fix paper jam.
Printer screen displays in many languages and printer software supports printing different languages. Baobi Printer Driver supports creating various specifications of consumables, which helps to quickly create new printing templates. Supporting docking with client's system via BPL interface file, to achieve real-time printing of data.
BAOBIWANXIANG patent designed thermal transfer ribbon box, makes it easy for assembling and removing ribbons.
Adopting LCD Display to show real-time printing status and quantities.
It will improve work efficiency by using Baobi Barcode Verifier to read barcode, and will increase security of Internet of Things by using Baobi RFID Reader.
Print Anti-metal Label and can be used in Fixed Assets area.
RFID Label Printer BB707S UHF SPECIFICATION PARAMETER
PRINTER SPECIFICATIONS
Resolution
300 dpi/12 dots per mm
Print Width
Maximum: 4.25" /108mm
Minimum: 0.39" / 10mm
Print Speed
Selectable
Standard Speed: 0.47" /12mm per second
Maximum Speed: 2.5 ips/60mm per second
Printing mode
Direct thermal Printing, Thermal Transfer Printing
Two Rolls
Upper Roll/ Down Roll, selectable
Applicable thermal printing ribbons specification
Shaft core: 0.5 inch
Length of shaft: 108mm
Width of thermal transfer ribbon: < 108mm
Outer diameter of thermal transfer ribbon roll: < 36mm
RFID TECHNICAL PARAMETERS
RF Protocols
EPC Global UHF Class 1 Gen 2/ISO 18000-6C
Supported Chips
Support the EPC Global UHF Class 1 Gen 2/ISO 18000-6C protocols of chips,including Monza 3,Monza 4D,Monza 4E,Monza 4QT,Monza 5,Monza R6,Monza R6-P,Monza R6-A,Monza S6-C,UCODE G2iL,UCODE G2iM,UCODE 7,UCODE 7m,UCODE 7xm,UCODE 7xm+,UCODE 8,UCODE 8m,UCODE DNA,Alien Higgs 3,Alien Higgs 4,Alien Higgs-EC(H5) etc.
Work Frequency
920MHz - 925MHz
Work Status Indicator
Displayed in the screen
Antenna
Built-in
OPERATING CHARACTERISTICS
Environmental
Operating temperature: 40℉/4.4℃ to 104℉/40℃
Storage temperature: -40℉/-40℃to 140 ℉/80℃
Operating humidity: 20%-85% non-condensing
Storage humidity: 5%-85% non-condensing
Electrical
Universal power supply (PFC compliant) 100-240VAC, 50-60Hz (60 Watts) External Power Supply
Physical Characteristics
Width: 225mm
Height: 306mm
Depth: 345mm
Weight (N.W): 4.0kg
BAOBI PRINTABLE ID SOLUTION
Software
BAOBI Printer Driver
BBDesigner
Programming
BPL+ (Application Programming Interface)
Networking /Connectivity
USB 2.0 interface
Ethernet 10/100 interface
Wireless 802.11 b/g/n (Optional)
Font and Graphic
Support user-defined fonts and graphics-including custom logo
Font and Barcode rotation: 90, 180, 270 degrees
Barcode
Linear Barcode: Code 39, Code 128A, B&C, UCC/EAN-128, Code 93, Codabar, Interleaved 2 of 5, UPC-A, UPC-E, UPC-A with 2 and 5 add on, UPC-E with 2 and 5 add on, EAN 13, EAN 8, EAN 13 with 2 and 5 add on, EAN 8 with 2 and 5 add on, Postnet, Standard 2 of 5, Industrial 2 of 5, LOGMARS, MSI, Codabar and GS1 Databar (formerly RSS), Code 11, China Post.
2-Dimensional Barcode: PDF-417, Maxicode, Data Matrix, QR code, Aztec.
Accessories
Software CD Disk (BBDesigner / BAOBI Printer Driver)
Warranty Card
USB Port Cable
Power Adapter
Power Cord
BAOBI Label Holder WH01 (Optional)
BAOBI Ribbon Shaft BRS01 (Optional)
BAOBIWANXIANG

Leading provider of the Internet of Things industry in China,providing personnel and items identification technology, products and total solutions.It's a high-tech enterprise integrating R&D, production, sales and technical services.Totally obtain 217 patents.

Service Hotline

Consult Now

Hot Selling Products