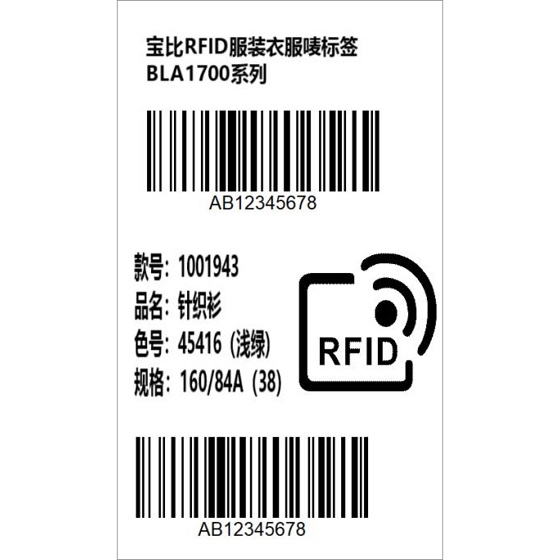 BAOBI RFID Washing Label BLA1700
Solutions

Product details
Specification Parameters
Product News
RFID Clothing Label BLA1700
1. Features
Waterproof, anti-magnetic, high temperature resistance, long service life, large reading distance, data on the label can be encrypted, storage data capacity is larger, and storage information can be changed freely.
2. Application advantages
a. Improve supply chain production efficiency management
Help real-time monitoring of garment products from raw materials to semi-finished products, finished products, transportation, warehousing, distribution, shelves, sales, and even return processing.
b. Reduce labor costs
It can effectively avoid paying for manual errors and reduce abnormal expenses.
3. Model
B1701-7040-UHF13-06-5030
Chip: MonzaR6-P
Label size: 70mm*40mm
Antenna ruler: 50mm*30mm
Material: Nylon
B1702-2560-11843-06-1642
Chip: MonzaR6-P
Label size: 25mm*60mm
Antenna size: 16mm*42mm
Material: Nylon
BAOBI RFID Washing Label BLA1700 parameter
B1701-7040-UHF13-06-5030
Chip: MonzaR6-P
Label size: 70mm*40mm
Antenna ruler: 50mm*30mm
Material: nylon

B1702-2560-11843-06-1642
Chip: MonzaR6-P
Label size: 25mm*60mm
Antenna size: 16mm*42mm
Material: nylon
Baobiwanxiang

Leading provider of the Internet of Things industry in China,providing personnel and items identification technology, products and total solutions.It's a high-tech enterprise integrating R&D, production, sales and technical services.Totally obtain 217 patents.

Service Hotline

400-880-6887

400-880-6997

Consult Now

Hot Selling Products