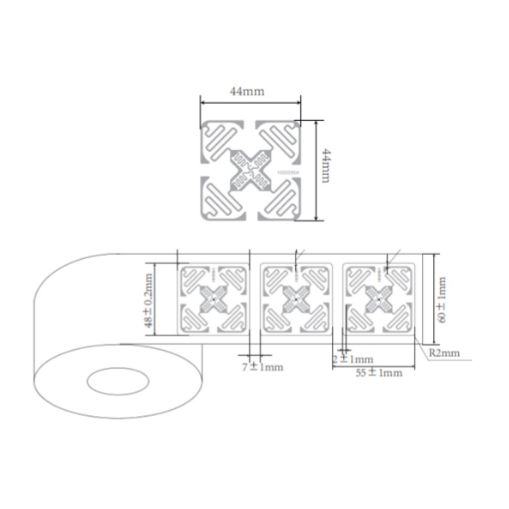 BAOBI RFID Commodity Label*Retail Label BLA1300
Solutions

Product details
Specification Parameters
Product News
RFID product label new retail label BLA1300
1. Features
Support EPCglobal C1G2 and ISO/IEC 18000-6C protocols
Wide band characteristics 840MHz-960MHz
Excellent anti-interference ability, providing higher read reliability
Industry leading memory write speed
Stable performance in a variety of materials (excluding metal)
Reliable performance in multiple reader environments
2. Performance parameters
Chip: Monza4D
Frequency: 840MHz-960MHz
Agreement: ISO/IEC 18000-6C
Capacity: user area 32bits
Working mode: readable and writable
Number of reading and writing: 100,000 times
Chip life: ≥10 years
Working environment: -20 ° C to 70 ° C
Working humidity: 20% to 80%
Storage environment: -5°C to 40°C
Data valid period: 100,000 times, data storage for 50 years
Finished product shelf life: from 5 ° C to 40 ° C, protected from light, not sealed, can be stored for one year
Product specifications : Antenna size : 44mm*44mm; Die cutting size : 50mm*50mm
Rolling direction: chip down
Note: Do not violently knock out, bend the chip
Packing: 500 / roll
3. Application range
Commonly used for item packaging, cartons, wooden crates, plastic trays, glass or low temperature refrigerated objects. Suitable for logistics, warehouse management, product retail and other fields.
BAOBI RFID Commodity Label*Retail Label BLA1300 technical specifications
I. Electronic Performance
Chip: Monza4D
Frequency: 840MHz-960MHz
Protocol: ISO/IEC 18000-6C
Capacity: user area 32 bits
Work Mode: Readable and Writable
Read and write: 10,000 times
Chip life: > 10 years

II. Comprehensive Performance
Working environment: - 20 C to 70 C
Working humidity: 20% to 80%.
Storage environment: - 5 40 C
Data validity period: 100000 times, data storage for 50 years
The shelf life of finished products: under the condition of 5 to 40 C, it is light-proof, unsealed and can be stored for one year.

III. Packaging
Surface Material: Dumb and White PP/Fragile Paper
Release direction: chip down
Notes: No violent bumping, bending chips
Packing: 500 rolls

IV. Product Specifications
Antenna size: 44mm*44mm
Die Cutting Dimension: 50mm*50mm
* On the basis of uniform antenna size, tag size can be customized
Baobiwanxiang

Leading provider of the Internet of Things industry in China,providing personnel and items identification technology, products and total solutions.It's a high-tech enterprise integrating R&D, production, sales and technical services.Totally obtain 217 patents.

Service Hotline

400-880-6887

400-880-6997

Consult Now

Hot Selling Products