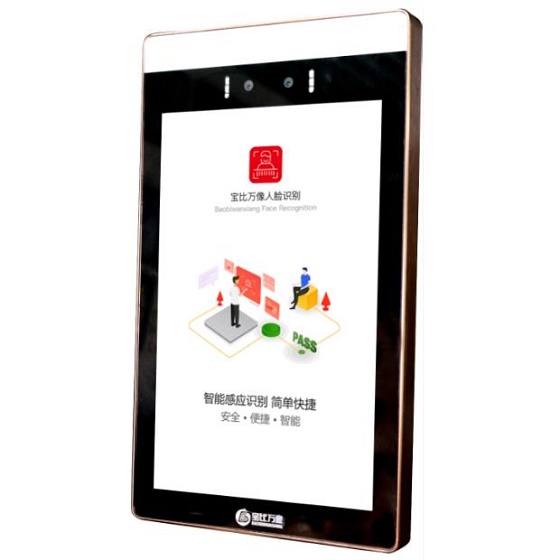 Face Recognition Access Control Time Attendance Terminal BV7257S-F10-80W
Product details
Specification Parameters
Product News
Tablet face recognition terminal is aluminum alloy shell, waterproof, dustproof, high temperature resistance; 10-inch LCD display, super quad-core CPU, white fill flash;can realize face detection, face recognition, living body detection etc. Widely used in smart finance, smart city, smart campus, smart construction site, smart park, smart power, smart environmental protection, smart fire protection and smart management projects.
Product Model and Details
BV7257S-F10-80W-01
BV7257S-F10-80W-02
Product Feature
*Wide dynamic binocular live anti-counterfeiting, LED flash at night,LED lights hint;
*Use dynamic face detection and tracking recognition algorithms based on video streams;
*1:N Face Recognition:Face database capacity of 10000 faces,Top1 hit rate is 99.99%;
Within 0.1% false accept rate,pass rate 99%. Within 0.01% false accept rate, pass rate 96%.
*Fast recognition speed. (A) Face tracking and detection takes about 20ms. (B) Face feature extraction takes about 200ms. (C) Life detection face comparison takes 0.2ms. (D) Feature comparison takes 0.5. ms (10,000 person database, multiple identification and average);
*Support LAN deployment .
*Support multiple I/O ports, 232/485 serial ports, Wiegand interface, other peripherals like ID card reader, fingerprint, NFC is optional .
Technical Parameters
Performance
Operating System: Android 5.1
CPU: 4-core 1.8GHz high-performance processor
Memory: 16GB ROM + 2GB RAM
Screen
Size: 10 inch, 170 ° IPS LCD screen with full viewing
Resolution: 1280 * 800
Touch Panel: With TP: BV7257S-F10-80T-01
BV7257S-F10-80T-02
Without TP:BV7257S-F10-80W-01
BV7257S-F10-80W-02
Camera
Type: Binocular live camera
Resolution: 2 million pixels
Aperture: F2.4
Focal Length: 4.7mm
White Balance: Auto
Wide Dynamic: Support
Core Parameters
CPU: 4 cores, 1.8GHz
Storage Capacity : Memory 2G, storage 16G
Accessories
Fill Flash: LED fill flash(White, Green, Red)
Network: Network module supports wired, wireless (2.4GWiFi), 4G module
Holder: Optional
Torch Holder:BV7257S-F10-80W-01
Hanging Wall Holder(fix to Switch Box 86*86mm): BV7257S-F10-80W-02
Torch Holder:BV7257S-F10-80T-01
Hanging Wall Holder(fix to Switch Box 86*86mm): BV7257S-F10-80T-02
Interface
Audio: With speakers
USB Interface: Including USB interface, switchable with OTG interface
Serial Port: RS232 serial port
Relay Output: Build-in
Wired Network Interface: RJ45 network port
Features
Face Detection: Detection rate is 97% in the case of 0.7% false accept rate when detecting and tracking 15 people at the same time.
1:N Face Recognition: Top1 hit rate is 99.99%; Within 0.1% false accept rate,pass rate 99%. Within 0.01% false
accept rate, pass rate 96%. (Standard data sets LFW, pass rate >99.82% ± 0.0007)
*GLOSSARY:
[Top1 Hit Rate]: Find out the Top with the highest degree of acquaintance person, among
which top1 is the probability of the designated person;
[False Accept rate]: FAR, is the probability of mistaking others as designated person;
[False Reject Rate]:FRR, is the probability that the designated person be mistaken as other
person;
[Pass Rate]: The probability that the designated person is identified as the designated
person, the sum of the Pass Rate and False Reject Rate is equal to 1;
1:1 Recognition Comparison: 99%
Stranger Detection: Support
Identification Distance Configuration: Support
Deployment Method: Local area network (Cloud platform system)
General Parameters
Protection Level: IP42 with a certain dust and water resistance
Power: DC12V
Working Temperature: -30 ℃ to 70 ℃
Operating Humidity: 5-90% relative humidity, non-condensing
Device Size: 164mm high * 280mm wide * 19mm thickness
BAOBIWANXIANG

Leading provider of the Internet of Things industry in China,providing personnel and items identification technology, products and total solutions.It's a high-tech enterprise integrating R&D, production, sales and technical services.Totally obtain 217 patents.

Service Hotline

400-880-6887

400-880-6997

Consult Now

Hot Selling Products