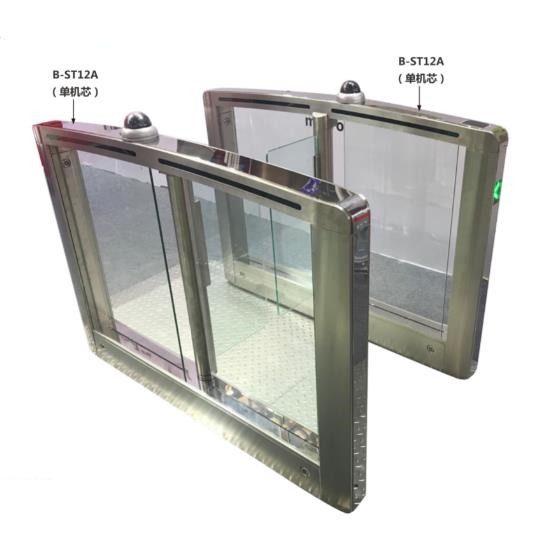 Servo Motor Fast Access Gate B-ST12 Series
Product details
Specification Parameters
Product News
In order to meet the needs of customers to choose matching and elegant equipment for the beautiful outdoor environment, BAOBIWANXIANG fast access speed gate has optimized the structure and circuit for waterproof, rust and sunlight interference.
BAOBIWANXIANG Fast Access Speed Gate B-ST12 uses the most advanced servo motor and drive device in the industry. No matter for access control, extraordinary response speed or channel opening and closing speed can be very fast, the opening and closing speed can even be up to 0.4 seconds. In this fast-speed pass gate, a light curtain is applied, and at least 48 pairs of infrared sensors are used to ensure that the passenger in the passage is not only efficient but also very safe.
Fast Access Speed Gate B-ST12 has a very narrow body of only 110mm and a small footprint. It is the bets solution for places requiring high safety and high flow speed in a limited space. Glass and stainless steel fast access control door suits high-end halls and beautiful gardens at the same time minimize the obstacle effect. The black mirror plating on the top and front and rear ends of B-ST12 is especially favourite design for customer.
Model
Servo Motor Fast Access Gate (Single Core) Model B-ST12A
Servo Motor Fast Access Gate (Double Core) Model B-ST12B
Features
Very safe access control solution
Single pass detection
Anti-pass detection
Can be installed indoors, semi-outdoors and outdoors
Anti-retail detection
Light curtain detection, can sense the luggage lever and even smaller objects
Anti-pass detection
The channel design is compact, even in a small space can be installed
Exquisite Design
With its slim body shape, unique LED, electroplating color and crystal clear glass, it is ideally superior to other turnstiles
Best Anti-rust Protection
From the inside to the outside, stainless steel 304#, stainless steel body, stainless steel frame, stainless steel base; from the structure to the circuit four-fold waterproof, provide the best long-term rust and moisture protection.
Easily Accessible Components
Two simple unlocking actions: the side door is opened and the circuit is inside; the movement is highly integrated and easy to disassemble. This improves user friendliness and speeds up installation and commissioning.
Technical Parameter
Size: L1705xW110xH1002mm
Passing Speed: 45 persons/minute 4 pairs of light curtains (48 pairs of infrared)
Driver: Imported servo motor
Power Supply: 80-240V, 50Hz
Power: 200W/Channel
Logic voltage: 24V
Material: Box: Imported stainless steel 304#, thickness 1.8mm, wire drawing process
Frame: Stainless steel 3mm
Base: Stainless steel 2.5mm
Door Leaf: Imported acrylic, tempered glass, PU
Function: Single passway, two-way electronic and electric control. Factory standard configuration is normally closed. When the authorization signal is received, the passage is controlled, and the channel is opened. In the alarm state, the channel is open and free passage in both directions.
Drive Mechanism: The swing arm of the speed pass door is driven by a motor, and the door is driven to the final position through mechanical transmission. The force control system and the safety infrared sensor prevent the door from not moving when there are obstacles in the range of movement, and it has anti-collision and anti-pinch function.
Operation Mode: Except for the alarm mode and transportation mode, the channel is normally closed. The swing arm is released and opened through an effective access control system, such as card reader, ID card, passport, or biometric identification. The infrared detection system ensures that only one person passes. If there is a second person trying to trail through, or someone tries to pass in the opposite direction, the device will sound and light alarm and intercept trailer or retrograde.
Power Failure: If there is a power failure, the door leafs will be opened to create an escape route in the event of a power failure.
Fire Alarm: No voltage contact input, channel release to create an escape route.
Emergency Exit: The emergency state can be connected to the fire alarm to drive the swing arm to open. In the event of a power failure, the channel can also be opened manually.
Interface: non-voltage contact provided by card reader or button input, fire alarm and transmission mode input. RS232 protocol interface to control the door opening and closing and feedback channel status information high-level input signal to control the door opening and closing
BAOBIWANXIANG

Leading provider of the Internet of Things industry in China,providing personnel and items identification technology, products and total solutions.It's a high-tech enterprise integrating R&D, production, sales and technical services.Totally obtain 217 patents.

Service Hotline

400-880-6887

400-880-6997

Consult Now

Hot Selling Products